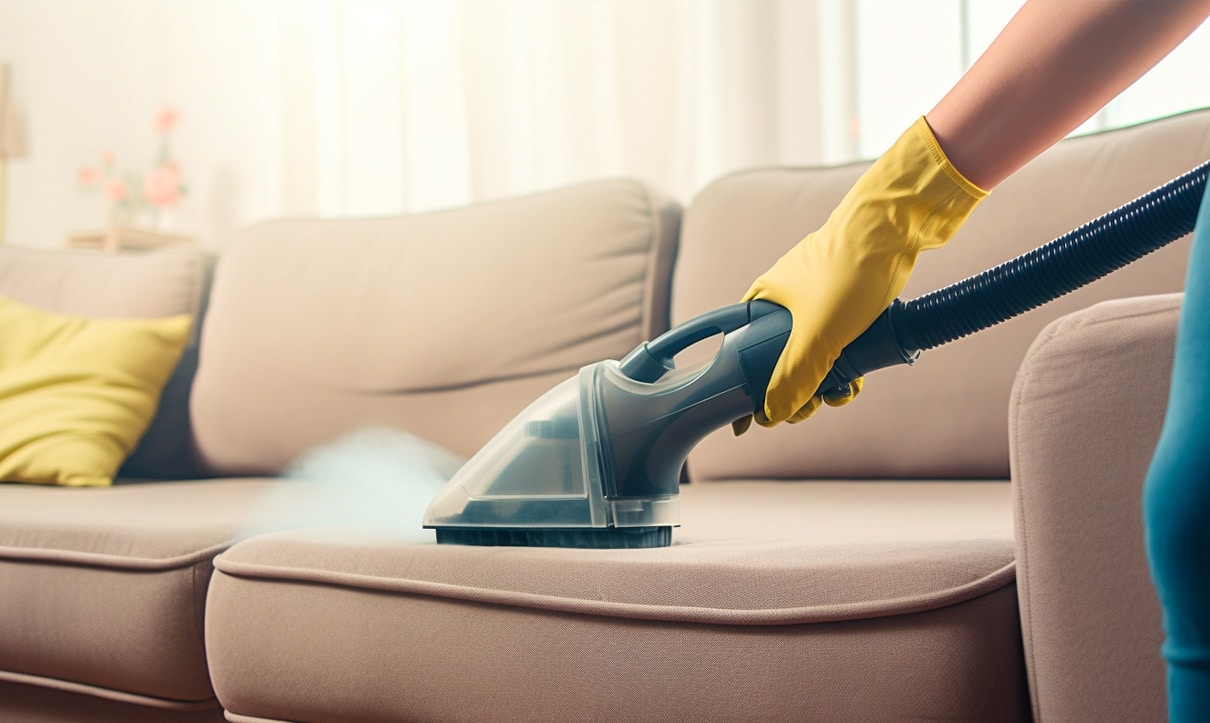 Sofas often serve as the focal point in numerous homes, hosting a myriad of family gatherings, leisurely Sundays, and movie nights. Nevertheless, this pivotal piece of furniture gathers dirt, dust, and unexpected spills, requiring consistent care to preserve its charm and comfort. Opt for our couch cleaning service to rejuvenate the essence of your living room today.
Why important to Sofa Cleaning
A sofa is not just a piece of furniture; it's a substantial investment that you would want to last for years. Did you know that professional couch cleaning can significantly extend the lifespan of your furniture? Regular cleaning wards off the build-up of dirt and stains, thereby safeguarding the fabric from wear over time. Engage with our sofa cleaning service to witness an undeniable transformation in your living space.
Sofa Cleaning Methods
At VR Green Cleaning, we employ various methods to ensure that your sofa is clean and restored to its former glory. Our dedicated team utilizes the best cleaners and equipment to treat different types of upholstery, whether fabric or leather. The initial step involves thoroughly inspecting the best cleaning technique suitable for your sofa.
For fabric upholstery, we often use a steam cleaning method, penetrating deep into the fibers, effectively removing dirt and stains. On the other hand, leather sofas require a specialized approach where we use gentle cleaners to preserve the material's integrity while removing grime and oils. We have stain removal techniques that work without damaging the upholstery in case of stubborn stains. Choose our couch cleaning service near you to ensure your sofa receives the care and attention it deserves.
Advantages of Professional Sofa Cleaning
While regular vacuuming is good, a professional cleaning service goes further, offering a deep and thorough clean that you cannot achieve with household methods. Professional couch cleaning removes allergens and bacteria, promoting a healthier home environment. Moreover, expert cleaners at VR Green Cleaning know how to handle various materials, safeguarding your investment from potential damage while maximizing its lifespan.
Why Choose VR Green Cleaning
Count on VR Green Cleaning as your trusted partner for pristine sofa maintenance. We reign as the premier couch-cleaning company in Walnut Creek, a status built on our steadfast dedication to excellence and customer satisfaction. We refresh and rejuvenate your furniture, boosting your home's comfort and aesthetic charm.
Ready to restore the beauty and comfort of your sofa? Don't wait for another moment. Call us at VR Green Cleaning today and schedule a session with our experts—experience firsthand the transformation a professional cleaning service can bring to your home. Let us assist you in maintaining a cleaner, healthier, and more inviting living space.
Walnut Creek, CA
Address:
7000 Sunne Ln Suite 112,
Walnut Creek, CA 94597