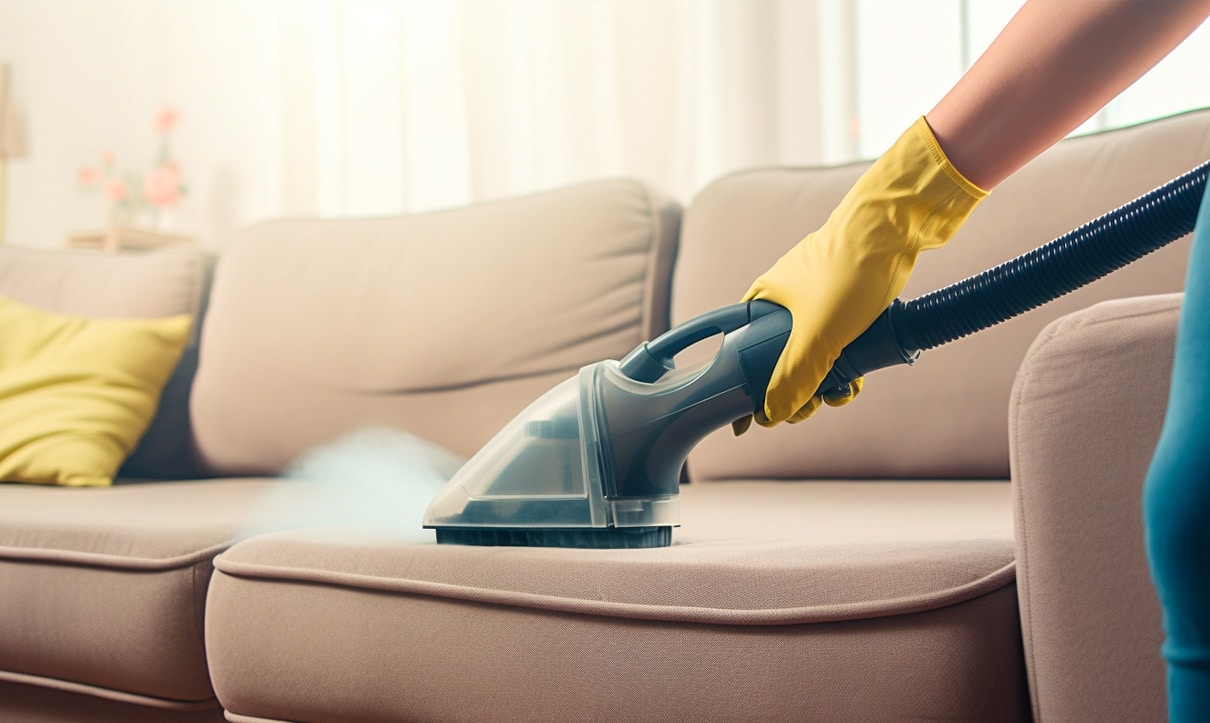 At Green Cleaning Service in Miami, we understand that your couch and sofa, often the centerpiece of family gatherings, are subjected to daily wear and tear and unexpected spills of various liquids. As a result, your favorite sofa becomes a breeding ground for bacteria and is covered in stains that are difficult to remove.
However, you should not rush to purchase a new sofa in despair. Our devotion is evident in our attention to the minutiae – like a spot under the cushion or a fold's concealed corner. We don't merely clean; we aim to renew your furniture thoroughly, making it feel genuinely refreshed. With Green Clean Services, your comfort and contentment remain our utmost priorities.
Our Cleaning Process
Tools & Products
Our work process is comprehensive and includes several main steps.
 Inspection and Assessment.

 Our professional cleaners first identify the fabric and material of the sofa (a specific type of leather or fabric) to determine the proper cleaning method. They look for particular stains, spots, or damage requiring special attention.

Vacuuming.

 A commercial-grade vacuum cleaner removes loose dirt, dust, and debris from the furniture. 

Pre-treatment. 

Unique solutions are applied to any noticeable stains or spots for easier removal, and preconditioning agents are utilized to break down soil and general stains in high-traffic areas.

 Agitation.

 Soft brushes or a particular steam machine work the preconditioning agents into the fabric, ensuring deep penetration.

 Extraction and rinsing.

 A hot water extraction machine typically removes the dirt and cleans the solution. We rinse the fabric with clear water to remove any residue, maintaining the fabric's appearance and feel.

 Post-spot treatment.

 If any stubborn stains remain, specific treatments are applied.

 Fabric Protection (Optional).

 Application upholstery protector helps prevent future stains and spills from setting into the fabric.

 Drying.

 Our cleaners may use air movers to expedite the drying process. A final inspection is usually done with the customer to ensure satisfaction.

 Deodorizing (Optional).

 We apply deodorizer to leave the sofa smelling fresh and clean.

 Final Evaluation.

 The cleaner ensures that the customer is satisfied with the service and provides guidance on maintaining the sofa's cleanliness.
VR Green Clean Services in Miami
Our company offers a comprehensive service for the cleaning of all types of sofas with departure at a convenient time for you and at affordable prices. Please leave a request or call us today to schedule an appointment with our experts. With consistent cleaning, you reduce allergens, enhance air quality, and enjoy a more hygienic living environment.
5 tips to consider when cleaning your sofa
At Green Clean Services, we guide our valued clients on how to best care for their sofas. Here are five points we advise you to consider:
Type of Fabric: It is essential to recognize the fabric of your sofa. Distinct materials have specific cleaning needs. Some fabrics, for instance, are delicate and require a softer cleaning touch to prevent potential damage.
Presence of Stains: Observe any stains or marks your sofa might have. By informing us in advance, we can better assess and decide on the most effective treatment, ensuring a greater probability of removing the stains thoroughly.
Preferred Cleaning Technique: We recommend discussing the optimal cleaning method suitable for your sofa with our team. While options range from steam cleaning and dry cleaning to shampooing, each has merits and drawbacks, depending on your sofa's fabric and the extent of dirt and stains present.
Drying Duration: When we service your sofa, inquire about the likely drying time after cleaning. We always emphasize the importance of allowing the couch to dry entirely before usage to ward off potential mold or fabric damage.
Safeguarding Measures: After a thorough cleaning, we suggest considering a protective layer for your sofa to fend off future stains. We at Green Clean Services offer this as an added service, ensuring your sofa remains pristine for longer.
For those seeking expert sofa cleaning in Miami, FL, trust in our expertise at Green Clean Services.
Special Sofa Cleaning Services
Upholstery Protector
Investing in a quality upholstery protector can significantly reduce wear and tear. It acts as a shield, prolonging the fabric's life.
Commercial Upholstery Cleaning
For businesses, commercial upholstery cleaning is vital. It preserves the professional image and ensures a clean and healthy environment for employees and clients.
Removal of pet hair and odor
Your furry friends might be adorable, but their presence on your couch can lead to odors and mess. Regular professional cleaning can solve it.
Professional sofa cleaning uses special tools and methods for a deep and safe clean. On the other hand, cleaning it yourself might not be as effective and could accidentally damage the fabric.
It's good to get your sofa professionally cleaned about once a year. But if you have pets, kids, or the sofa gets used a lot, consider cleaning it every 6 to 9 months. Regular cleaning keeps it looking nice and helps it last longer.
Drying a cleaned sofa usually takes between 2 to 6 hours. Sometimes, we use fans to speed it up, which can cut it down to 1 to 2 hours. It's always a good idea to talk to us about the drying time for your specific sofa.
At Green Clean Service, we are ready to give your sofa a second life and restore its pristine appearance. Whether it's a minor stain or a full clean you're after, we've got you covered. Call us today and experience the Green Clean difference.