At Green Clean we work on residential and commercial projects. We can clean your tile and grout, whether it's on the floor in the shower or outside. Our technicians are precise and detail-oriented. Call us today to get a quote.
Tile and Grout Cleaning in Miami
A beautiful tile enhances any room. Yet, keeping it pristine is a task. In Miami, Florida, tile and grout cleaning services are crucial for homes and offices. Dirty grout doesn't just tarnish looks; it hides harmful bacteria. Expert cleaning brings back the tile's luster and ensures health. Green Clean Services offers top-notch tile and grout cleaning for homes and offices. Choose the best for your space. Choose Green Clean.
Commercial Tile and Grout Cleaning
Commercial grout cleaning services provide a professional look crucial for impressing clients and maintaining a clean workspace. From restaurants to offices, our tile and grout cleaning Miami services are tailored to your business's unique needs.
How We Clean Tile and Grout
We use specialized tools, eco-friendly cleaning solutions, and industry-leading techniques for pool tile cleaning and indoor and outdoor surfaces.
In addition, we follow a unique working technique in which we return your tiles to their original purity and radiance step by step.
Pre-Inspection
We must ascertain the situation we are in. Is the material, natural stone, porcelain, or ceramic? This aids them in selecting the right equipment and cleaning supplies.
Applying a cleaning solution
Next, they spray a particular cleaning solution on the tiles and grout. This solution helps break down the dirt, making it easier to scrub away later.
Scrubbing
Once the solution has done its job, the professionals use brushes or special machines to scrub the tiles and grout. This removes the dirt and stains that have built up over time.
Rinsing Off the Dirt
After scrubbing, they rinse the cleaning solution and all the dirt with high-pressure water. This leaves the tiles and grout clean and fresh.
Sealing the Grout (Optional)
Sometimes, they might also seal the grout. This means they put a special protective layer over it to help keep it clean for longer.
Post-Inspection
The technicians inspect the tiles and grout again to ensure everything is spotless. The work is finished if everything looks good!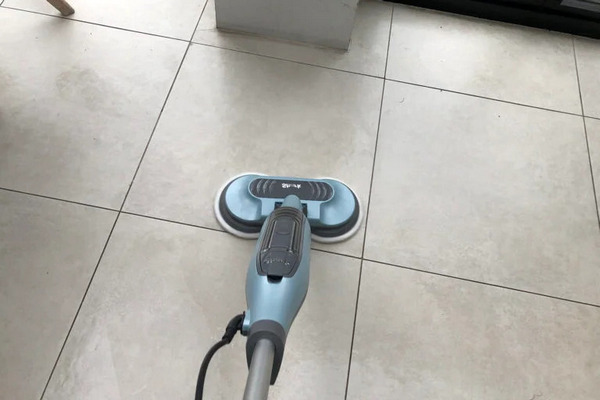 Top 5 Benefits of Professional Tile Grout Cleaning Services
1. Deep Cleaning that Goes Beyond the Surface
Professional tile cleaners use specialized tools and solutions to reach deep into the grout and pores of the tiles. This cleaning can remove stains and grime that regular mopping or scrubbing can't reach. Your tiles will look brighter and feel smoother!
2. Extending the Life of Your Tiles
Regular cleaning might leave behind residue that wears down your tiles over time. Professional cleaning can help them last years longer.
3. Health Benefits – Removing Allergens and Bacteria
Your tiles can be home to unseen bacteria and allergens. Professional cleaning can eliminate these, leaving your floors not just looking clean but actually cleaner.
4. Improving Your Home's Appearance
Restoring the gloss and color through professional cleaning makes the room appear lighter and more inviting. It's an easy method to improve the look of your house without doing any repairs.
5. Time and Effort Savings
Tile and grout cleaning can be physically taxing. By hiring experts, you may relax while they handle complex tasks. They can also finish the job in a small fraction of the time it would take, freeing up your time to pursue other hobbies.
Getting Ready For Your Appointment
Of course, we take care of all the tile-cleaning work! But to ensure that everything goes quickly and without problems, we ask you to prepare the room or open space with tiles for our arrival. Here's what you can do.
Of course, we take care of all the tile-cleaning work! But to ensure that everything goes quickly and without problems, we ask you to prepare the room or open space with tiles for our arrival. Here's what you can do.

 Clear the Area.

 Ensure all furniture, rugs, and other objects are removed from the tiles. 

 Point Out Problem Areas.

 If some specific stains or areas need extra attention, mark them or note them. It's like telling the doctor exactly where it hurts; it helps the professionals know where to focus their efforts.

 Secure Pets.

 If you have pets, ensure they're in a safe and secure area away from where the cleaning will happen.

 Provide Access to Water and Electricity.

 The professionals will likely need access to water and electrical outlets. Make sure these are available and easy to reach. 

 Inform Them About the Type of Tiles.

 If you know the type of tiles you have (such as ceramic or natural stone), let the professionals know. It helps them choose the right cleaning products. 

 Secure Fragile Items.

 If any fragile items are nearby, secure them or move them to a safe place. 

 Be Ready for Some Noise.

 Professional cleaning machines can be noisy. If you'll be home, consider bringing some headphones or setting up shop elsewhere in the house.
Ready for a fresh, clean, and beautiful tiled surface? Call us today and experience the best professional tile and grout cleaning in Miami! With professional help, you can maintain the beauty and integrity of your tiled surfaces, whether at home or in a commercial setting. Don't hesitate to invest in professional care and enjoy the long-lasting benefits.