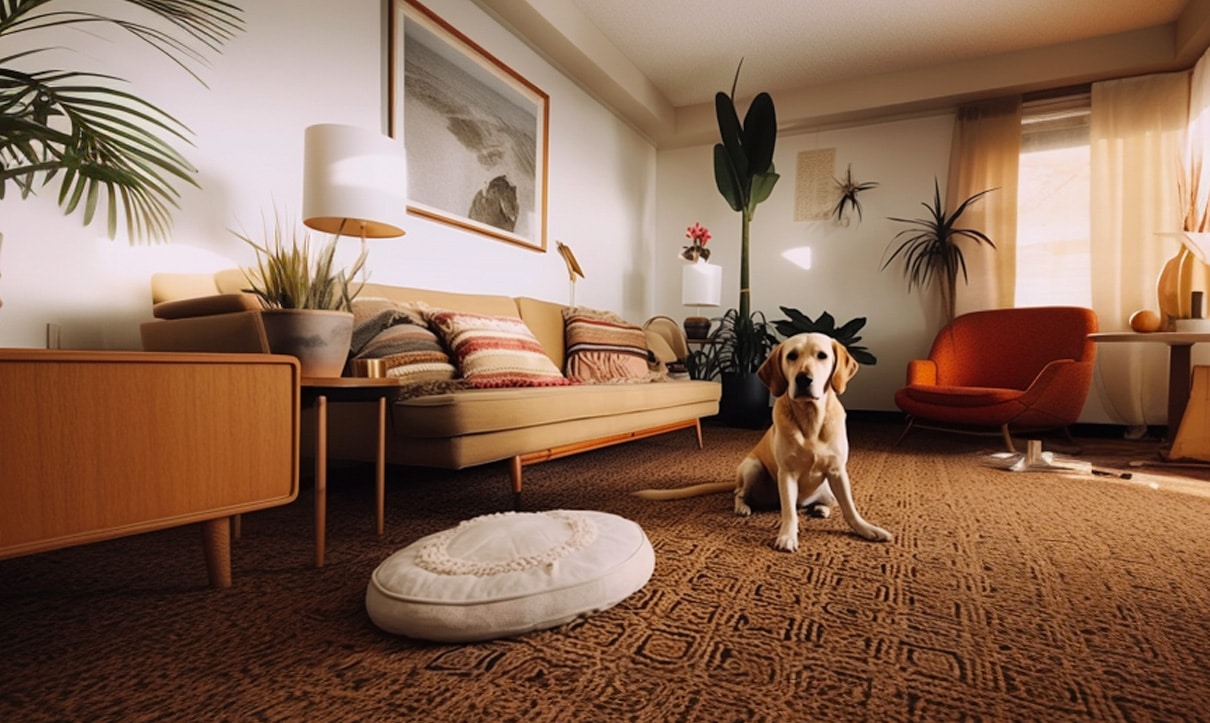 At VR Green Clean, we recognize that pets are cherished family members, but they can also introduce stubborn odors into your home. Our pet odor removal services are essential for maintaining a fresh and inviting atmosphere. We focus on eliminating pet odors at their source, providing a deep, healthful clean that transcends simple fragrance or surface treatment. This not only uplifts your living space but also supports a healthier environment for everyone, especially individuals with sensitivities or allergies. Trust VR Green Clean to restore harmony and freshness, transforming your home into a sanctuary for you and your pets.
VR Green Clean's Pet Odor Removal: Comprehensive and Conscious Care
VR Green Clean promises effective pet odor removal with long-lasting results, prioritizing safety and eco-friendliness. Our treatment targets and neutralizes pet odors, ensuring that your home remains a sanctuary of freshness. We use non-toxic, environmentally responsible methods that are tough on odors but gentle on your home and its inhabitants. Our commitment to eco-friendly practices means you can breathe easier, knowing your pet-friendly home is also kind to the planet. With VR Green Clean, experience a cleaner home where the well-being of your family and pets always comes first.
Expertise in Pet Odors
Our team possesses a rich understanding of the unique challenges pet odors pose. We are more than just cleaning experts; we are pet odor warriors armed with advanced technology and specialized techniques designed to not only mask but completely eradicate the most stubborn odors. Trust VR Green Clean to transform your space with a freshness that stands the test of time. Our in-depth knowledge allows us to pinpoint the exact treatment for various odor sources, from urine accidents to pet dander, ensuring that the scent is not just masked but wholly eradicated.
Speed and Convenience
We recognize that pet odor issues can't wait, so we offer prompt, reliable service. Our scheduling is designed for convenience, to work around your busy lifestyle. We aim to provide quick yet thorough service, understanding that your time is precious. Our team works efficiently to minimize disruption to your daily routine while maximizing the effectiveness of our pet odor removal services.
Cost-Effective Solutions
VR Green Clean is committed to providing cost-effective pet odor removal services without compromising quality. We offer transparent pricing, ensuring our customers understand what they are paying for. Our solutions are tailored to provide the best value, combining superior service with affordability. We believe everyone deserves a clean, odor-free home, and our pricing reflects that belief.
Additional Services
Understanding that pet odors often accompany other cleaning challenges, VR Green Clean also offers a suite of additional services. From deep carpet cleaning to upholstery rejuvenation, we can bundle services for comprehensive home cleaning. This not only saves you time and hassle but also offers a cost-effective way to address all your cleaning needs in one go.
We also provide preventative treatments that help repel future stains and odors, offering you peace of mind and helping to keep your home clean and fresh for longer. Our multi-faceted approach ensures that once the pet odors are removed, your space maintains its cleanliness.
At VR Green Clean, we combine our passion for cleanliness with our love for pets, delivering a service that understands the importance of a pet-friendly, odor-free home. Our expertise, coupled with our dedication to customer satisfaction and environmental responsibility, makes us the go-to experts for pet odor removal in Denver. Choose us, and you're not just getting a cleaning service; you're investing in a lasting solution for a harmonious, odor-free home.
Denver's Fresh Start: Expert Pet Odor Removal by VR Green Clean
Ready to say goodbye to unwanted pet odors in your Denver home? VR Green Clean is at your service. Our expertise in eco-friendly, pet-safe odor removal means your home will be fresh and inviting again. Don't let odors linger any longer! Contact us today to schedule your pet odor removal service. Experience the peace of mind that comes with a clean, fresh-smelling home. Call VR Green Clean now — because your family and pets deserve a healthy, odor-free environment.